We've teamed up with 5 women who defy clichés, create legacies and are completely unafraid to start a revolution. These Alba Botanica® brand users represent everything we stand for and absolutely believe in doing beautiful in the world.
3 words to describe yourself. Go!
Passionate, Grateful, Ocean.
Tell us about the work that you do. What's your favorite part?
I work in marine conservation, science, and business. I combine elements of all three to make successful, impactful programs that support efforts to protect marine life and people who support conservation. My daily work focuses heavily on sharks. They're one of the most threatened animals on the planet and need all the help we can give. Getting to share incredible, humbling moments interacting with marine life with other people gives me the deepest sense of fulfillment. It's my way of giving back to those incredible creatures, and the environment. Once you've spent time cruising alongside a great white, tiger shark, or whales – you'll know the feeling and you too would speak up and share your voice to help protect them. #HelpSaveSharks #SaveSharks #SaveTheOcean
What's the one thing that's surprised you in your path up until now?
How much plastic is everywhere on everything!
What has been your biggest challenge?
Largely because of the influence of business leaders in the fishing industry, I've encountered many obstacles along the way to getting legislation passed to protect marine environments.
To you, what does it mean to #DoGoodDoBeautiful?
I LOVE this saying, because I am floored and inspired by the people around me who devote time and energy towards giving without getting. It's so inspiring, and so beautiful, and this sentiment really shines through.
What advice would you give to young women aspiring to pursue or get involved in activist work?
Pursue your passion, and speak up for those without a voice. I promise your voice is louder than you think. Whatever your background is, your side job is, it doesn't matter. Everyone can make an impact, the future needs your help now.
Favorite way to unwind after a long day. Go!
A sunset surf session or sunset yoga on the beach. A reflective pose late at night is sometimes my end-of-day night cap, and it feels great to be able to give thanks and express gratitude. I love staying inside of that attitude.
What's most important to you with the skincare of beauty products you use?
That they don't harm the environment or our bodies.
What did you dream of being when you were little?
I thought about a lot of things, but everything along the way has pushed me towards my career and I couldn't be happier. I always want to make a bigger impact. I want positive change to happen faster and to save sharks before they go extinct. I'm working as fast as I can, but now the White shark, Silky, Oceanic White Tip, Scalloped Hammerhead, and even the beautiful gently toothless giant Whale Sharks are all endangered.
Tell us something unexpected about yourself. Hidden talents, favorite dance moves, etc?
I am totally OK and happy to not put any restrictions on what I can do or accomplish. There are a lot of "weird" or "unexpected" things about me, but here are a few from over the years: I've done ballet, horseback riding, and mixed martial arts. I can play the piano, and violin (neither that well)! I completed my degree with honors. I'm a model, and I've stunt-doubled lead actresses in movies and TV shows. I almost broke the national record in breath holding at 6 ½ minutes. And, I love to do random, anonymous acts of kindness. It gives me a kick of joy.
Shop the sunscreens featured in Ocean's video here. These formulas are water resistant and biodegradable.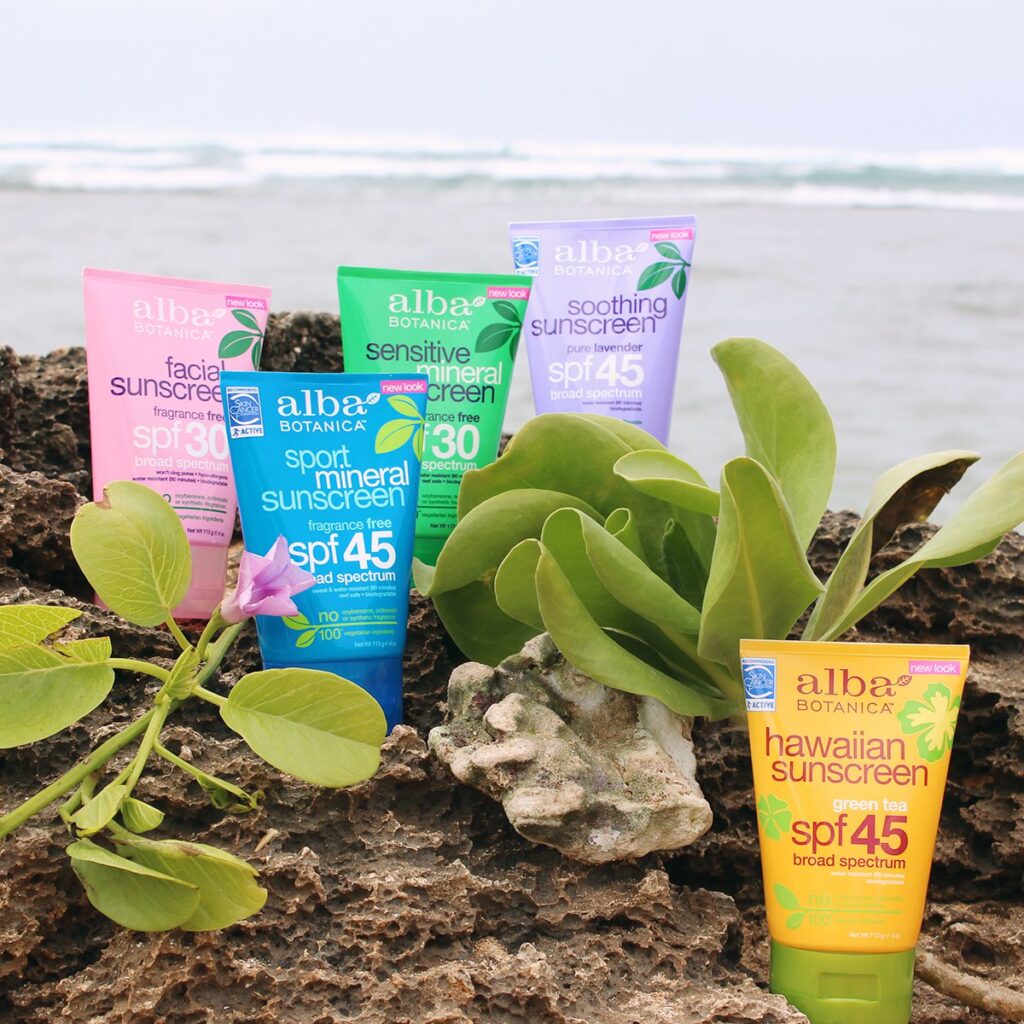 These partnerships were proudly sponsored by Alba Botanica®.