We've teamed up with 5 women who defy clichés, create legacies and are completely unafraid to start a revolution. These Alba Botanica® brand users represent everything we stand for and absolutely believe in doing beautiful in the world.
3 words to describe yourself. Go!
Strong-minded. Rare. Self-assured.
Tell us about the work that you do. What's your favorite part?
I am the President and Founder of Girls Above Society – a non-profit organization dedicated to promoting self-confidence and leadership skills among young girls. Over the past five years, I've spent a great deal of time traveling throughout the U.S. speaking to teen and tween girls on topics such as body image, bullying, and positive relationships.
Creating my GIRL TALK Curriculum has been one of the most rewarding parts of my journey – especially seeing the spark in a young girls' eyes when she realizes that she's not alone, and when she understands the power of self-worth. I started this journey with the goal of changing lives, but I never anticipated how much these girls would change my life for the better. Following my dreams at a young age has really solidified my mission in life.
What's the one thing that's surprised you in your path up until now?
The biggest thing that has surprised me in my journey thus far has honestly been how much I am capable of. I was insecure during my middle school and high school years and I looked at my goals as impossible dreams. Looking back, I don't think my 13-year-old self would have ever believed I would be standing in the place I am today. This just goes to show the power of courage and how unpredictable the future truly is.
What has been your biggest challenge?
Discovering who my true friends are. When I first embarked on Girls Above Society, I thought my peers, especially other girls, would be thrilled and excited about my mission. However, a lot of my peers couldn't understand why I would skip a party on Friday night to work on a self-esteem curriculum. My freshman year of college I made incredible friends who are unconditionally supportive in everything that I do. I am grateful that I had these experiences early on – it has helped me recognize that it is OK to be particular about the people you surround yourself with.
To you, what does it mean to #DoGoodDoBeautiful?
For me, it means to be your true and authentic self in everything that you do. It means to unapologetically follow your dreams despite any setbacks you may face. A confident woman will always #DoGoodDoBeautiful.
What advice would you give to young women aspiring to pursue or get involved in activist work?
My best advice would be to START NOW. It is way too easy to procrastinate because "life" gets in the way. I believe that your life is what you make it. "Life" isn't getting in your way – your own self-doubt and insecurities are getting in your way. The first step is the hardest, but you will be so grateful you took the leap now, rather than later.
Favorite way to unwind after a long day. Go!
There's nothing better than hanging out with my sweet puppy Gracie and watching "Friends" on repeat. I also try to pamper myself with a bubble bath and a face mask as often as possible.
What's most important to you with the skincare of beauty products you use?
It's really important to me that the skincare and beauty products I use are not designed to cover up my flaws, but rather enhance my natural beauty. With so many choices on the market, I tend to gravitate towards products that are created with care and beneficial for my skin.
What did you dream of being when you were little?
Growing up, I think I changed my mind every other day about what career I wanted to pursue in the future. I was (and still am) one of those people who wants to do it all and learn as much as possible. Choosing one path has always seemed impossible!
Tell us something unexpected about yourself. Hidden talents, favorite dance moves, etc?
Something a lot of people may not know about me is that I am extremely interested in politics and have always liked the idea of running for office. So! If you ever see my name on a ballot, vote for me!! 🙂
Shop the Fast Fix™ Sheet Masks that Lauren used with the girls during one of her empowerment workshops. View Now.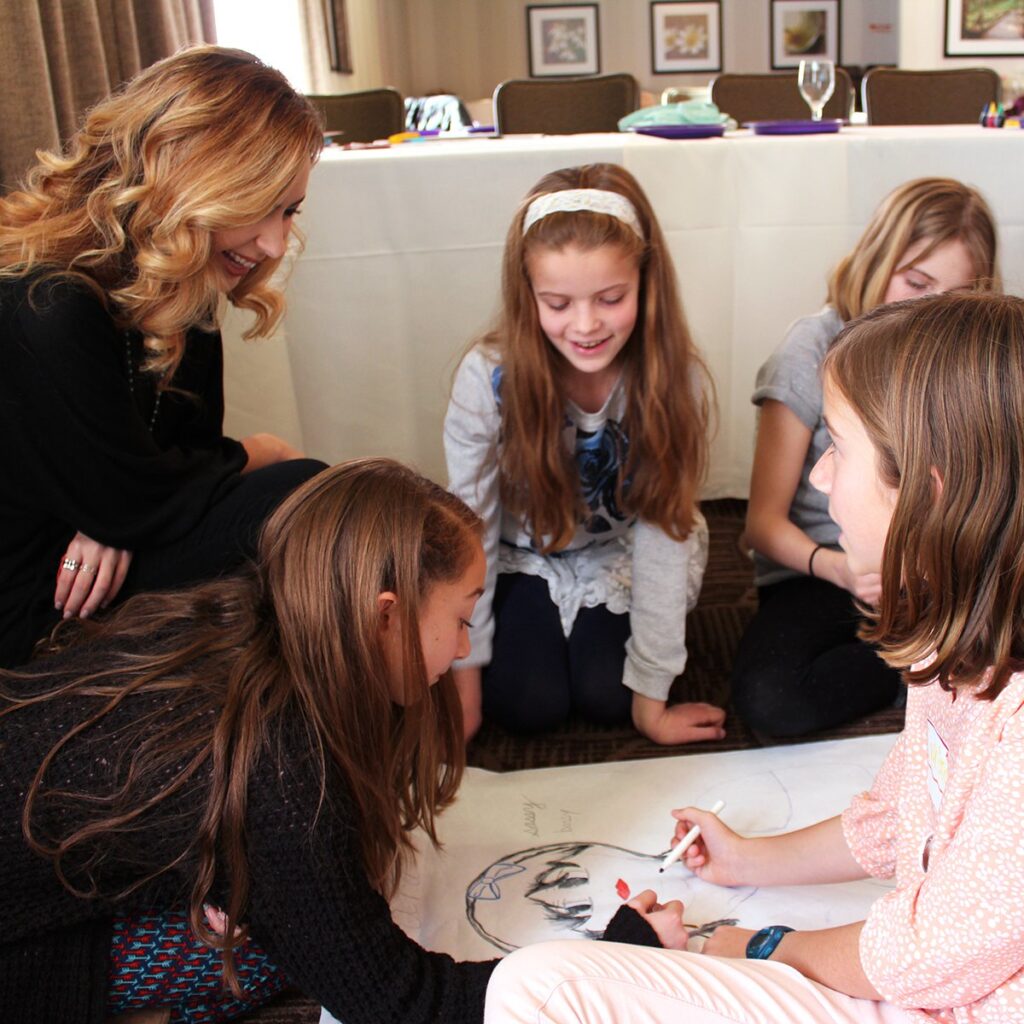 These partnerships were proudly sponsored by Alba Botanica®